After the devastating fire
Thank you to everyone who has been in touch,
We are so grateful for the outpouring of support and kindness from both our local community and friends of Te Kiteroa from all over the world

While it is still a painful loss and at times seems unbelievable that Te Kiteroa is no longer with us, we have been blessed with incredible support since May 2021

The site has now been cleared, with all that remains being the beautiful entrance steps and columns that stood proudly outside the front door - overlooking "The Long View" that Te Kiteroa was so appropriately named after

Ann & Gary are still living on site, with fortunately being able to take up residence in the Gardner's Cottage that was originally constructed by Emily Phillips for her Gardner at the time Te Kiteroa was built in 1913.

The iconic Chauffeurs Cottage is available to be booked as short term holiday accommodation - you can find more details and how to book here

We are launching the Te Kiteroa Podcast experience in February 2022 - you can find the links here on the website to the latest episode


The Latest On The Blog...
February 7, 2022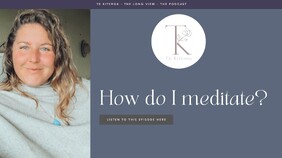 Meditation has been practiced and taught for millennia and many people around the world - through many different cultures, religions & spiritual practices - know just how powerful it is to have as a daily and regular practice There is a science behind meditation and it is all to do with our di...
read more
Meet Rose,
Rose works as a mentor to women around the world who are both seeking their soul purpose & running their soul calling businesses.
She works based from Kakanui as an Intuitive Human Design guide & Mentor to Women in Spiritual Entrepreneurship. Rose offers her expertise in a weekly podcast, online courses & books - hosting the Te Kiteroa podcast & facilitating online learning opportunities


Meet Ann & Gary,
Ann & Gary have been the owners and custodians of Te Kiteroa since the 1980's - moving to be based at Te Kiteroa full time in 2007 after a lifetime based overseas for Gary's work in aeronautical engineering.
Over the years they welcomed thousands of guests through the doors of Te Kiteroa prior to the devastating fire in May 2021 - with many a tale to tell of the grand old ladies life!
They are still actively involved in the legacy of Te Kiteroa & have been recently involved with the process of clearing & securing the site after the fire; which once completed will give a clearer picture as to the next steps to heal & move forward developing ways that the community can still experience the wonderful environment & tranquil setting of Te Kiteroa's grounds.